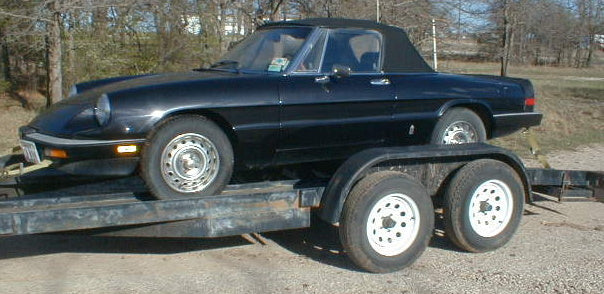 Here is our new project. Like all the others it too has started it's new life coming home on a trailer because it doesn't run. It has a near perfect body, no rust, it's the light weight Graduate model, and best of all...it's BLACK! I have always wanted a black Alfa.
     If you are a hardcore Alfa enthusiast, you may want to follow along on this project. It will be unlike any other Spider project you are likely to see. Project Super Spider will be one of the most fearsome Spiders on the road, with the ability to smack down STIs and EVOs.
     Here are the project goals:
1. Dead stock appearance. No bulges in the hood, no visible intercooler, stock steel wheels. The only exterior change will be the exhaust tip.
2. An EVO smashing 275 horsepower* reliably on PUMP GAS!
3. Minor chassis upgrades, including some strengthening, better bushings etc. Nothing too radical, this will not be a track car. It will be a true street car. It will see some track days, but it will also drive coast to coast.
     Obviously we plan to go with forced induction. Other modifications to the engine will be minimal, and relatively inexpensive.
* I know a lot of people will doubt that I will be able to get that amount of power within these conditions. I heard the same doubts during my supercharged V6 development. Of course when the dust settled and the dyno results were in the results were as predicted in every case, except the higher boost 2.5 with which we exceeded the expectation by 10 horsepower.
     Update:
    This project is moving forward. The supercharger has been mounted and it fits under the hood with no problem. I feel all major issues have been resolved and we should have a running test car soon. The biggest problem at this point is time. Obviously the customer orders, emails, and phone calls always take priority over new projects, so the SuperSpider is always the last thing we work on.
     The kit is very similar to our GTV6 kit. It can be run intercooled or non intercooled. We are going with SDS fuel injection. The car could be run with L-Jet following the same procedures I used successfully with the V6, however space is at such a premium under the hood of the Spider that it really helps to eliminate the air flow meter.
    At this point everything is based on a stock engine but with lower compression 8.5:1 forged pistons.
     Update 7/27/23:

    The Super Spider has its supercharger installed and the car is running. EFI is managed by the SDS EM-5 F with a modern coil-pack replacing the original distributor. The supercharger kit features a Sprintex 210 which is a 57ci (0.94 liter) twin-screw supercharger. It is rated for 300 hp and a maximum discharge pressure of 36 psi. (2.5 BAR)
    Super Spider managed half of a dyno pull before its OEM driveshaft donut/flex disc/giubo failed. We are working on an upgraded flex disc that will be compatible with all 4 cylinder 105/115 Alfas. Once that is installed, we will work on completing phase 1 (non-intercooled) tuning and posting the dyno results here. Phase 2 will be intercooled and ran at higher boost levels.